Shaker Style Cabinets are characterized by simplicity, high functionality, and subtle elegance. Practical and convenient, shaker style cabinet doors, cabinets, and drawers are suitable for any room in a home because they create a clean, uniform look.
If you were wondering what kitchen cabinet style will successfully pack a punch and bring the most bang for your buck, it's Shaker Style Cabinets. This cabinet design is versatile, practical, and comes at a reasonable price.
Once you've learned how great Shaker Style Cabinets are, you will definitely want to check them out. Learn below what are the most popular and all-time classic favorite shaker style kitchen cabinets and shaker style cabinets doors. We will show you shaker style cabinets that we offer at our East Brunswick Kitchen and Bath Showroom. We'll also help you choose the perfect shaker cabinet style, color, and finish for your home.
Read on to learn all about:
Shaker Style Cabinets in White for Popular Looks in Modern Homes
White shaker cabinets are one of the most popular kitchen cabinet options in American homes. Whether you are planning on a kitchen, a bathroom, a mudroom, or a laundry room renovation, shaker style cabinets in white color are one of the best options to go for.
Aesthetically designed to provide a subtle, clean, and orderly appearance, shaker style cabinets in white will bring a new, fresh shine to your kitchen or bathroom. The key rooms in your home will become calm and balanced environments when enriched with white shaker cabinets.
Although they are all-time classics, white kitchens are especially popular in New Jersey homes during the last couple of years. You don't have to settle for only one white option. You can choose between off-white and pure white shaker style cabinets.

Shaker Style Ice White Kitchen Cabinets
Ice White Shaker Cabinets present the bold, shiny white option for kitchen spaces. Crisp and clean look that is especially popular in modern homes and apartments will be easily achieved with Ice White Shaker Cabinets.
For example, Ice White Shaker Cabinets by Forevermark will easily make your kitchen look larger and brighter. Clean and simple design fits perfectly with any kitchen layout or a color scheme that already exists in a kitchen. If you wish to find Shaker Style Cabinets in white color that are adaptable enough for use in both traditional and modern homes, this Ice White Shaker Design is one of the best solutions. The quality, price, and style speak for themselves.
Made of birch, these clean Shaker Style Cabinets in Ice White are perfect for either traditional or contemporary decor. Featuring a wide shaker style and full overlay, Elegant CNC Cabinets add more strength and character to a kitchen with the reversed, raised center panel on the doors.
Shaker Style Off-White Kitchen Cabinets
However, if you prefer to be surrounded by softer and gentler looking white shaker cabinets, choose Shaker Style Off-White Kitchen Cabinets. These cabinets are highly versatile and always successfully provide the soft appearance to a cooking space.
Sydney Shaker Style Kitchen Cabinets by CNC Cabinetry feature a modern, simple and clean looks with a square, flat panel. These white satin cabinets enrich the kitchen with a dreamy and soft, but also smart look. There are no frames, center stiles, or rails on these cabinets. These Shaker Style Cabinets in white succeed to provide the effect of additional spaciousness. Sydney Shaker Style Cabinets include plywood sides and a dovetailed soft close drawer for best results and maximum functionality in the kitchen.
For more luxurious looks, Luxor Cabinets by CNC Cabinetry fit beautifully in both traditional and contemporary kitchen interiors. These off-white shaker kitchen cabinets feature a wide shaker style and partial overlay.
Like a foaming cup of coffee, Bergen Latte Shaker Cabinets by Cubitac are designed to feel warm and welcoming. With a delightful look and smooth outline that goes well with all interior kitchen styles, Bergen Latte Shaker Style Cabinets make the ideal finishing touch to any kitchen space.
Shaker Style Cabinets Images – Variety of Colors for Your Inspiration
Although white shaker cabinets are very popular, there are other Shaker Style Cabinets Colors that will inspire your kitchen or bathroom renovation project.
Shaker Style Cabinets will easily fit in different home styles – from country and traditional, to modern, contemporary, and even industrial styles.
Natural wood finishes radiate warm appearance and look great in a traditional home.
On the other hand, people who live in contemporary homes may want to be surrounded by more modern shaker style cabinet colors. Grey, black, or wood washed colors and glossy finishes may be the perfect additions to modern homes. Traditional and warm, or contemporary and sleek, anything is possible with shaker style cabinets.
You can paint your shaker style cabinet doors but you can also upgrade this look with a burnished finish. This solution is perfect if you want your kitchen to posses that rustic chic. The burnished finish will give your shaker style storage cabinets an aged look and feel. The rustic appearance is achieved when shaker cabinets are distressed, sanded and applied with a burnishing stain.
If you wish burnished finish or painted finish shaker style cabinets in your kitchen or bathroom, take a look at shaker style cabinet manufacturers offers. Find your local shaker cabinet retailer and check their offer. Often, local kitchen and bath showrooms have special deals and offers that may come perfectly.
Practicality, stability, harmony, and sophistication reflect powerfully in Shaker Style Cabinets. This is why they are a classic all-time favorite for so many people.

Shaker Style Cabinets in a Kitchen for Practicality and Exquisite Design
Kitchen cabinet trends come and go but Shaker Style Cabinets stay and always come up again in the kitchen decors all across the U.S. Simple and strong kitchen cabinets that feature great construction, versatile style, a variety of colors and finishings, at a reasonable and often even lower price point, simply must be everyone's favorite. Recessed Shaker panel kitchen cabinet doors offer numerous possibilities.
Shaker Style Cabinets are flat-panel wood cabinets with recessed rail frame. In the beginning, shaker cabinets were made from pine wood. Today, however, kitchen cabinet manufacturers use a different kind of wood to produce shaker cabinets for our homes: cherry, maple, birch, hickory, and other.
Highly functional and practical, with minimalist features and sturdiness that promise to last for years to come, shaker style cabinets became the favorite choice for kitchen designs and interiors.
Find shaker style cabinets made of high-quality wood for your kitchen and never worry about the ever-changing kitchen design trends! Your shaker style cabinets can last you for a lifetime. So, if you at some point get tired of always the same look in your kitchen, hire a professional to paint your cabs.
Painted finish on shaker style cabinets offers a more contemporary look. When you decide on a color and paint your shaker kitchen cabinets, you'll be able to keep the squared-off, sharp, and recessed edges that are so typical for shaker cabinet style.
However, there is a minor downside to painted shaker kitchen cabinets. Depending on the type of wood that cabinets are made of and the area you live in, the color may start to crack at the joints. As you already know, wood furniture naturally expands and contracts, even more so in the areas with high-temperature differences, hot and humid summer weather, and cold, dry winters. But this won't affect your kitchen cabinet strength and sturdiness. Small hairline cracks won't affect the overall look of your shaker style kitchen cabinets.

Shaker Style Cabinets in a Bathroom – Practical and Pretty Solution
Shaker style cabinets bathroom furniture guarantees a traditionally designed bathroom space. However, shaker style bathroom wall cabinets and shaker style bathroom storage cabinets are not only for traditional interiors. Whether you're totally into traditional bathroom appearance or you would like to add a contemporary line to it, shaker style cabinets present the most effective dialogue between the two styles. Shaker style cabinets will successfully unite traditional and modern, warm notes and sleek lines in your bathroom.
Shaker style bathroom vanities come in various color schemes, rich style finishes, and dimensions for any bathroom space. Shaker cabinets in the bathroom are available as freestanding or floating bathroom vanities. Shaker style bathroom storage furniture will provide you with the much-needed storage space and the design features you always wanted in your bathroom.
Your shaker style bathroom vanity won't look old-fashioned because so many shaker style cabinets are available for bathrooms. Traditional intertwined with contemporary is the definition of modern shaker style bathroom cabinetry.
When looking for shaker bathroom storage and wall cabinets, make sure to find options with design features such as ceramic basins, soft-close drawers and doors, and the highest quality material. Once you are sure that your shaker style bathroom cabinets are top quality, you can plan to personalize its looks for your own needs.
Storage is such an important feature of any bathroom space, especially in family homes. When looking for shaker style storage cabinets, make sure that you have enough space for everything you and your family needs. Shaker style bathroom vanities usually offer enough space for storage of towels, other toiletries and everyday items that families need. Bathroom storage cabinets and wall cabinets should keep the traffic flowing during the busiest times of any given day.
Shaker style bathroom cabinets will provide a clean, simple, and classic look with the lasting appeal in your family bathroom. Enough counter space, plenty of storage space, and the incredible ease of maintenance are some of the upsides of shaker style cabinets in the bathroom. Hassle-free maintenance is guaranteed with shaker bathroom floating vanities as they are hung up and provide easy cleaning of difficult-to-reach areas.

Shaker Style Cabinet Hardware to Complement Your Design
Cabinet hardware is often referred to as the jewelry for the kitchen. This means that different hardware pulls and knobs can complement the look of your kitchen, or seriously affect it and alter its style.
Shaker style cabinets feature a simple design. Therefore, they are open to a wide and various range of pulls and knobs. By using the right style cabinet hardware you will manage to define and put the finishing touch to your home design.
Whether you decide to define the style of your kitchen or bathroom as traditional with nickel or steel pulls and knobs, go vintage using pulls with exposed screws, or transit your shaker style cabinets towards modern design with flat bar pulls, you won't make a mistake.
Shaker style cabinets will let you choose and change the look of your kitchen or bathroom by accepting different styles of hardware.

Shaker Style Kitchen and Bathroom Cabinets for Your East Brunswick NJ Home
Brunswick Design Kitchen and Bath Showroom in East Brunswick New Jersey has many different shaker style cabinets with all the features you need for a functional and stylish kitchen or bathroom interior.
Whether you prefer the more purist shaker cabinet door look achieved with squared-off rail and stile, or shaker style cabinet door with more detailing, we have the right option for you.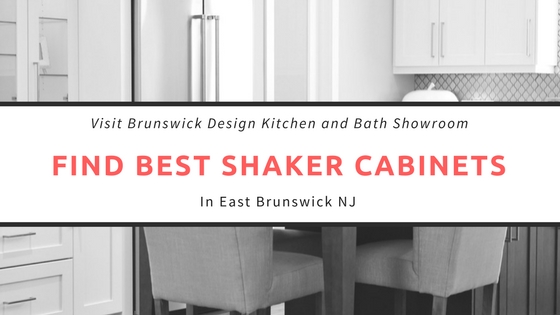 Our designers have all the knowledge, information, and experience to assist you in choosing the right shaker style cabinets for your East Brunswick NJ home. They will also generously share the tips and tricks of their trade to add a new twist to your kitchen design.
Whether you need shaker kitchen cabinet doors, shaker style bathroom wall cabinets, or shaker style bathroom vanity, we have a vast choice of shaker style cabinetry on sale.
View more of the kitchen cabinets that Brunswick Design offers in East Brunswick NJ.
Visit us today in our Kitchen and Bath Showroom at 513 Route 18 South East Brunswick, NJ 08816 or contact us.