KITCHEN CABINETS SHOWROOM in EAST BRUNSWICK,NJ
Kitchen Cabinets in East Brunswick NJ showroom that offers you cabinets with remarkable quality, cutting-edge design, and natural beauty. Brunswick Design Kitchen and Bath Showroom is the best place to visit when looking to update, remodel, or build a kitchen in your East Brunswick NJ home. Our elegant, high-end kitchen cabinets will provide you with a lot of kitchen storage, exceptional design, and great value. We are the best place to look for low budget kitchen cabinets in East Brunswick NJ. Low, discount price kitchen cabinets don't have to look cheap. Our vast wooden kitchen cabinet selection in East Brunswick NJ will exceed your expectations.
Kitchen Cabinets East Brunswick NJ Selection
When living in East Brunswick NJ, you want your home to have all the commodities modern life implies. In this modern age, high-quality kitchen means high-quality life. A good kitchen is unthinkable without best quality cabinets. Modern family life especially requires from us to provide only the best for our families and our children. We want them to grow healthy and strong. We want to show them the importance of striving for the best.
When visiting Brunswick Design Kitchen and Bath Showroom, you'll notice that we have a vast cabinet selection. This means that we provide our East Brunswick neighbors with different kitchen cabinet designs.
Top Kitchen Cabinets Manufacturers in East Brunswick NJ Showroom
We carefully choose our cabinet manufacturers. We're happy to say that we hold only the best quality kitchen cabinets. At the same time, our kitchen storage cabinets have the best prices in East Brunswick NJ. Affordable, quality wood cabinetry is both functional and stylish. This is what any homeowner can hope for. We are proud of our kitchen cabinet selection we brought to East Brunswick NJ. Meet our top kitchen cabinet manufacturers.
Forevermark Kitchen Cabinets – Don't Settle for an Ordinary Kitchen
Experts at Forevermark Kitchen Cabinets carefully design each distinctive cabinet style to make sure kitchen stands out. Their cabinets are reliable and durable. This cabinetry is a great choice for our families, for everyday use, and our everyday activities in the kitchen space. Forevermark Cabinetry features wood construction, superior hardware, and durable paints and finishes. Take a look at some of the Forevermark cabinet designs we feature in our East Brunswick NJ showroom.
Cubitac Kitchen Cabinets – Local NJ Professionals Make Exquisite Designs
Cubitac from New Jersey is the cabinet manufacturer that selects and inspects every piece of wood they use. Cubitac sources grain-rich, high-grade Birchwood from select parts of the tree. This follows a 9-step process of beautification. The result is superior look and feel cabinet. Construction of Cubitac cabinets is handled by local professionals. This is why Cubitac's end-products possess the highest finish, durability grade, and functionality. Cubitac is a manufacturer that prouds with creating jobs locally. They employ an entire team of cabinet builders in their production facility in Ridgefield Park, New Jersey. We love that they found a way to give back to the community. Both this and an amazing cabinet quality are the reasons why they're one of our favorite cabinet manufacturers in our East Brunswick kitchen cabinet showroom.
FGM Kitchen Cabinets – Customers' Satisfaction as First Priority
FGM Cabinetry is located in Linden, New Jersey. With the goal to become one of the top – level cabinet wholesalers in the U.S, FGM specializes in supplying their customers with high-quality solid wood cabinets. FGM offers both semi – custom and ready – to – Assemble (RTA) cabinets. Their Chinese production team is located in Shanghai, China, in a facility of over 358,000 square feet with over 200 experienced workers. The product line is highly automated with machines imported from Germany. This ensures consistent high quality and affordable price of their cabinets. You can find their high-quality cabinets in our Brunswick Design Kitchen and Bath Showroom located in East Brunswick NJ.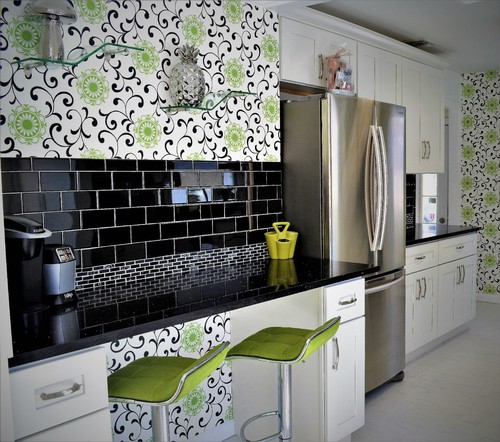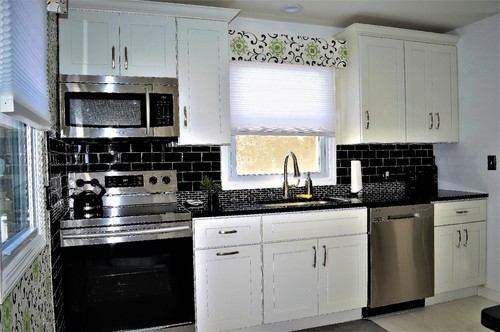 CNC Kitchen Cabinets – Trendsetting Kitchen Design
CNC Cabinetry offers a comprehensive range of products, including framed domestic-style cabinets and frameless European-style cabinets, standard post-form and self-edge custom countertops. Fundamental experience and production capacities enable CNC Cabinetry to create highly functional cabinet designs and take them to perfection. They implement all the necessary resources in importing cabinetry. CNC Cabinetry offers superb quality at the most affordable pricing. These are the reasons why we decided to offer their beautiful cabinet designs to East Brunswick NJ residents. Stop by our kitchen cabinet East Brunswick NJ showroom to take a closer look.
White Kitchen Cabinets in East Brunswick NJ – Bright & Cheery
A modern, contemporary kitchen is hard to imagine or plan nowadays without incorporating white kitchen cabinets. A bright and white cabinetry will bounce light and offer enough space for more creation and design. White is lately the most popular cabinet color. Both shiny white cabinets and off white kitchen cabinets will make your kitchen space cheery and timeless. Visit Brunswick Design Kitchen and Bath Showroom for of the wealthiest white cabinet collections at affordable prices in East Brunswick NJ.
Gray Kitchen Cabinets in East Brunswick NJ – Beautiful Neutrals for Modern Kitchens
Gray kitchen cabinets represent one of the most desirable neutral cabinet colors in the contemporary kitchens. Whether you prefer light gray cabinets, dark gray cabinets, or blue-gray cabinets, gray is certainly one of the most beautiful kitchen cabinets colors and ideas. When installing gray cabinets in your East Brunswick NJ home, consider the amount of light in your kitchen. Depending on the amount of natural light, choose between light and dark gray cabinet options. Our Brunswick Design Kitchen and Bath Showroom offers one of the most exquisite selections of high-quality and beautiful gray kitchen cabinets in East Brunswick.
Black Kitchen Cabinets in East Brunswick NJ – Elegance & Style
Nothing says elegance and style like black kitchen cabinets. If you wish to make a powerful design statement, black cabinets are the perfect tool to do this. If you wish to add drama and break the monotony of neutral colors in your kitchen, nothing will complete this task more successful than black cabinets. Whether you opt for matte or shiny, black color will class up and dramatically beautify your East Brunswick NJ kitchen. We know how important it is to create a distinctive kitchen design and make a kitchen stand out. This is why our Brunswick Design Kitchen and Bath Showroom displays some of the most wanted black cabinet designs at wholesale, discount prices.
Cherry Kitchen Cabinets in East Brunswick NJ – Tradition & Family
Traditional cabinet design is timeless and highly valued regardless the passing kitchen cabinet design trends. Natural cherry kitchen cabinets are the perfect representation of the always wanted traditional kitchen design. When looking for cherry wood cabinets, take into consideration that these cabinets will darken in time. When looking to create a timeless kitchen design, cherry cabinets are the perfect choice. You will acquire a piece of the living nature that will change in time, as do all living things. Cherry kitchen will live and breathe with you and your family. Stop by our Brunswick Design Kitchen and Bath Showroom to find best quality cherry kitchen cabinetry for your East Brunswick NJ kitchen.
Shaker Kitchen Cabinets in East Brunswick NJ – Modern Design for Modern Families
Shaker kitchen cabinets are one of the most popular and most wanted kitchen cabinet designs these days. Clean lines, simple design, excellent quality, and great color solutions are the main factors why homeowners decide to choose them over other cabinet styles. Shaker cabinets made from wood are one of the best guarantees for quality. Depending on the color you choose, shaker style kitchen cabinets can look even traditional. When painted in black, white, gray, or any other color suitable for kitchens, shaker kitchen cabinets will represent a staple for any modern kitchen design. When you come to our Brunswick Design Kitchen and Bath Showroom, you will find some of the most wanted shaker kitchen cabinets for your East Brunswick NJ kitchen.
Kitchen Cabinets Cost in East Brunswick NJ
Kitchen cabinet cost is always determined by kitchen cabinet style, layout, material, finish, and dimensions. When looking for best-priced kitchen cabinets, consider the type of cabinet construction. There are three main types: stock cabinets, semi-custom cabinets, and custom cabinets. Stock kitchen cabinets are fully prefabricated. They are usually the cheapest option. Semi-custom kitchen cabinets allow a bit more customization. They are priced more than stock kitchen cabinets. Custom kitchen cabinets are the priciest option that will meet your exact requirements.
When looking to update your kitchen with new cabinets in East Brunswick NJ or to build a new kitchen from scratch, gather all information on kitchen cabinet cost. Even if your budget is low, you don't have to sacrifice the quality because of the price. Our kitchen cabinet showroom in East Brunswick NJ has options for all of your requirements and budgets. We provide the best price kitchen cabinets and the best return on your investment in East Brunswick NJ, guaranteed.
East Brunswick NJ Kitchen Cabinets Showroom – Solutions for all Needs and Budgets
When looking for the best kitchen cabinets for your East Brunswick NJ kitchen, come visit our Brunswick Design Kitchen and Bath Showroom for factory direct, discount, wholesale priced kitchen cabinets. You will find us easily, on 513 Route 18 South East Brunswick, NJ 08816. We offer great customer care. Our professionals work closely with you to plan and install your dream kitchen. Our professional, knowledgeable, and friendly staff is available for any consultation you may need. Whether it's kitchen cabinet color, kitchen cabinet style, kitchen cabinet price, designing your kitchen from scratch or simply redecorating to create a more updated look, you will get our attention one-on-one. This is our recipe for building strong relationships and trust with our customers.
Brunswick Design Kitchen and Bath Showroom in East Brunswick NJ provides free consultation and estimates for your kitchen cabinet project. We work with you closely to understand your needs and budget. Kitchen designs that we develop, always exceed our customers' expectations. Complete services, including replacing, styling and remodeling your kitchen cabinets are now available to you every day of the week! Contact us and get your free, no-obligation estimate and advice on kitchen cabinets in East Brunswick NJ today!
East Brunswick NJ – One of the Most Desirable Family Neighborhoods
Our Brunswick Design Kitchen and Bath Showroom is located in East Brunswick NJ, one of the most beautiful and most family-friendly neighborhoods in New Jersey.
East Brunswick New Jersey is proudly hailed as one of 25 great towns in this US state. This is a township in Middlesex County. The suburban community of East Brunswick is part of the New York City metropolitan area. This county is located on the southern shore of the Raritan River and is directly adjacent to the city of New Brunswick. The city has a strategic location that can't be better for access to transportation and major highways. The location fostered great developments in East Brunswick NJ – exquisite schooling system, excellent medical services, residential building, office complexes, and shopping centers. Per the 2010 census, the diverse population of East Brunswick was 47,512.
East Brunswick NJ has a lot to offer. When in East Brunswick, take a stroll through Rutgers Gardens. This is a botanical garden – one of the few botanical gardens in the country that does not charge a visitor's fee and is open 365 days a year. Funds are raised through facility rental fees, special events, membership dues and donations from supporters. Rutgers Gardens in East Brunswick NJ offers a variety of programs for school-age children, designed for children to explore and discover the Garden environment.
East Brunswick NJ has some scenic views to offer too. Farrington Lake is a freshwater reservoir, bordered by East Brunswick, North Brunswick, and South Brunswick. It was created by a dam on the Lawrence Brook, a tributary of the Raritan River. Farrington Lake is a widened section of the Lawrence Brook. If you decide to visit it, know that the most spectacular view of the dam is after rainy days. During these days, water cascades down in gigantic steps.
FREE ESTIMATE & 3D DESIGN OF YOUR DREAM KITCHEN
Contact Us Today